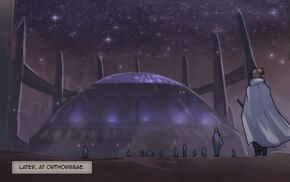 Orthorbbae is the central school in
Chel'el'Sussoloth
, where clans both major and minor send their children and important members to be educated. The current headmistress is Snadhya'rune
Vel'Sharen
.
In game groups of a particular profession were sent to Orthorbbae in order to gain new knowledge to be used in their field. Groups were usually away for periods of 2 to 7 days.
An'jhali spent the years between the end of PTP 1 and PTP 2 at Orthorbbae, and while there recruited several Chelian born player characters. She also attended classes in a variety of subjects such as politics, warfare, and mana arts.
Ad blocker interference detected!
Wikia is a free-to-use site that makes money from advertising. We have a modified experience for viewers using ad blockers

Wikia is not accessible if you've made further modifications. Remove the custom ad blocker rule(s) and the page will load as expected.