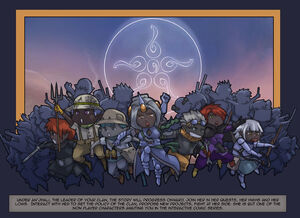 The second arc of the game, Path to Power 2, covered the period when the Tei'kaliath came up to the surface to found the first major overworld colony and when they came into possession of the flying ship, which heralded the start of
Path to Power 3
.  It ran from April 27, 2011 to September 22, 2012.
Path to Power 2 had a much greater emphasis on building the colony.  The focus for most of the arc was to create a self sustaining city and carve out a living in a very, very hostile environment.  Challenges 
Path to Power 2 also did away with the Ranked system.  Instead, the Event Archive (EA) was opened to every player and anyone could propose an action that would then be voted on.  Access to the Leader Archive (LA) also remained opened to everyone.  From a game mechanic stand point, the two archives were now virtually identical, except the EA had a greater focus on specific projects and the lives of the people while the LA followed the life of An'jhali and dealt more with the internal politics of the clan.
Path to Power 2 also introduced the ability to make a non-Tei'kaliath character (although the ex-Relentless slavers were the first non-Tk characters, this was during a special event). This brought the number of playable races up to five: Tei'kaliath, Chelian drowolath, drowussu, halfbreed, and mimian.
More to come.
Ad blocker interference detected!
Wikia is a free-to-use site that makes money from advertising. We have a modified experience for viewers using ad blockers

Wikia is not accessible if you've made further modifications. Remove the custom ad blocker rule(s) and the page will load as expected.