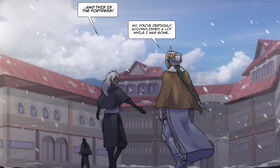 The Fortress is a stone fort located within
Ama'varde
itself. Its function is to serve as a place for warriors to live while on duty and as a place to fall back to in case of an attack. This is also where
An'jhali
currently lives. The one who designed the fort was
Eh'rin
.
Since it has become An'jhali's place of permanent residence, the fortress has also become Ama'varde's political center and anyone wishing to discuss matters of state comes here.
Ad blocker interference detected!
Wikia is a free-to-use site that makes money from advertising. We have a modified experience for viewers using ad blockers

Wikia is not accessible if you've made further modifications. Remove the custom ad blocker rule(s) and the page will load as expected.